I'm putting this one out there right now...my prediction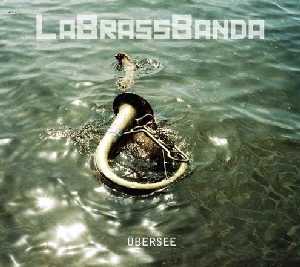 for the hot festival pick for 2011. Check out these barefoot Germans and their horns in
LaBrassBanda
. easy name to remember, too. Tuba, trombone, trumpet, bass and drums with occasional vocals. Last fall's Übersee has a funkier sound, but you get the idea of how much fun they're having from this little clip of a more trad Balkan-y sound.
Their other videos can be goofier. There is a long two-parter of one the band members driving a tractor hauling the tuba and drum kit through the countryside followed by the rest of them of mopeds. I'd bet it's funnier in German. This part is funny in English:
their MySpace
site tag describes them as "Bavarian/Brass/Punk" and another says "Other/Other/Other." One fan wrote from Italy askng if they would tour there and offering the use of his van. Is that all it would take?
They played Rothskilde last summer and are touring their brains out this summer. Let's watch and see if
Übersee
makes it onto the Euro world charts this spring or they are picked up by WOMEX or one of the other biggies by fall.
Just to save potential loss in the scroll-down, I'll quote Lemez Lovas'
Songlines
review here.
The Süddeutsche funkateers are back with a bang. For those listeners who were lucky enough to stumble across last year's

Habediehre

, it was the shock of the season: a Bavarian five-piece, just three horns, vocals, electric bass and drums, performing their own songs in the local dialect. But what singer Stefan Dettl does with this combination is beyond any expectation: there's a straight-up pop sensibility as sharp as that of MGMT or any of the latest alt-electro-pop hyphenated genres. And with

Übersee

, LaBrassBanda might just have delivered the surprise underground hit of the year. Three things leap out: killer US R&B-style grooves and licks; top musicianship; and a totally cliché-free approach. It kicks so hard that it really doesn't matter if you understand the words or not. Opening track 'Bierzelt' sounds like Beyoncé opening Oktoberfest; 'Des Konnst Glam' is a swinging blow-out with all the funk of 70s legends Brass Construction; 'Ringlbleame' does the same with the added bonus of a hook-laden pop chorus; while on 'Nanana', they show they can also play it as sweet and spiritual as a New Orleans shout band. It's fresh, confident and totally unlike anything else out there. Get onto this before everyone else does.



Tracks from
Übersee
are not up on Lala or on their MySpace for some reason. Grrr. Find yourself a link to
"Des Konnst Glam"
(sorry it's only a 30 second-er) and then
try to sit still
. Here's a
Last.fm link
, too. No head nodding, no toe tapping, no patting your hand on the desk, no hip shaking, no strutting! IT'S NOT POSSIBLE! There is some kind of
pure brass joy
blowing out of these tunes.
* * * * * * *

In one of my meandering searches to put names and faces to uncredited amazing female vocal tracks, I came across a wonderful interview with the Bulgarian architect Nikola Gruev, getting attention as
Kottarashky
(
four months
on the Euro World charts top 20) for his wonderful homegrown sample mosaic
Opa Hey.
(Regular readers may remember a mention of the disc last fall as I was enticed to listen to "Long Song" over and over while watching football.) I was trying to find out who was the owner of that husky voice in "Long Song" and found out it's from
a field recording he made at a wedding!


Well. I guess it might be tricky to track down
her
solo disc!
The tunes on
Opa Hey
a a great example of something that doesn't work
at all
with the 30 second sample. The carefully constructed collages subtly build layer upon layer, a few vocal syllables here, a waft of clarinet there, a sprinkle of trumpet or accordion over there. The rhythm tracks are also carefully built up out of samples from field recordings, though not all from traditional percussion sources. The tunes get more interesting with each listen as your ears and brain tease out another tiny element, carefully placed to create his vision of the next generation of Balkan music. Great, interesting
long interview
from Bulgarian? German? blogger with stories and maps from his journeys around Bulgaria collecting his sound samples.
Here's the
Guardian
review
if you just can't get enough. There are full length song samples at the first link of his name.
* * * * * * *

Another item on some of the the March charts that bears more listening is Algerian-born
Hansa el Becharia
's new disc
Smaa Smaa
. Although not bluesy at all, I can imagine this appealing to fans of Tinariwen's more stripped down stuff. Simple, elegant, a weathered yet warm voice, nice female backing vocals over a hypnotic stringed instrument. Here are some
samples.
What the heck is that thing she's playing? Maybe it's some sort of
gumbri
? Acccording to the article in the link above, she's more know as an
electric
guitar player. She's hitting most of the big cities in Eastern Canada in late July, maybe somebody will catch her at one of the Canadian festivals. Let me know!