OK, somebody has to ask the question already...
Do
Pistolera
and
Pistol Valve
know each other?  Could they hang out?  Could they jam?
Pistolera, appearing at the Cedar next Thursday night, is a Mexican American four piece doing Cumbia, Norteno, Ranchera and folklorico with great lyrics about immigration issues.
"Policia" has been getting some heavy play in  my living room this week; my son and I were trying to polka to it!
Pistol Valve is the 10 piece Japanese all girl brass plus fiddle plus turntable band, famous for their fedoras and high energy live shows.
Here's a nice little interview with Pistolera about the making of
En Este Camino
, with a some performance clips spliced in.
I also dig their Spanish updating of the Bob Marley's classic "War" as "Guerra" complete with some slinky horns courtesy of the
Slavic Soul Party
boys!  I love it when Cedar faves like SSP get around...and SOUL
is
their middle name!
So I don't really know if they could jam together, but YOU can definitely jam with Pistolera, next Thursday March 12 at he Cedar.
* * * * * * *
I just have to brag a little bit now.  You know how I have been raving about the most recent releases from
Analog Africa
these last few weeks?  Well, Samy Ben Redjeb himself found our little blog last week and posted a comment thanking us!
Thank you very much for this, I really appreciate. Hope you´ll like my next release which will come out early May. Keep in touch. Samy
That SO made my day last Thursday, but I'm still hoping the
Occidental Brothers
International Dance Band will make
everybody's
night on March 2oth and transport the entire Cedar dance floor back to 1970's West Africa.
* * * * * * * 
Finally,  in the "looks like fun" category, check out this photo on Watcha Clan on the Opening Night of their Spring European tour last week. They were at the Jazz Hause in Freiburg, Germany.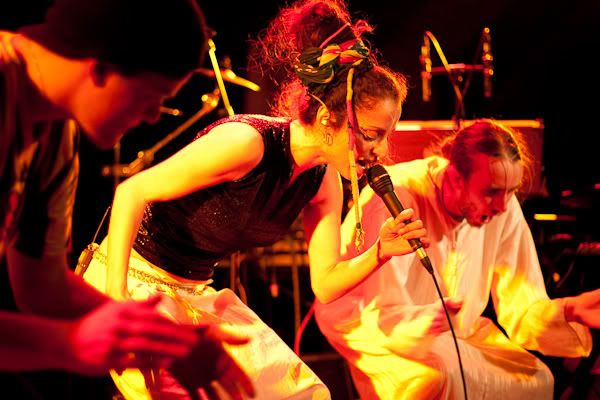 Please-oh-please do a U.S. tour this fall!
And when does the
Diasaspora...
remix disc come out over here?
Regular readers of this blog might want to reference the p
revious appearances
of Watcha Clan in this space, one a review of their performance at Global Fest in January, and one in a larger article on French culture clash music.
Lots of fun shows this month!  Bring it ON!