Accordion. Why does it encourage dancing for some, and cringing for others? There's something kinda silly about the instrument, that you play it by squeezing it and pulling it, sort of like doing "the wave" or a swim stroke. Or maybe just having a stroke. Is the association with polka music too strong to ignore, like dancing in a round with your aunts to "In Heaven There Is No Beer"? Like it or loathe it, it's a keyed up force to be reckoned with.
A U.S. accordionist with Gold and Platinum selling albums from the 80s, 90s and 00s? Really?? Yes.
Weird Al Yankovic
.
I have many memories of accordion fever at The Cedar. From the Argentinean flourishes of
Chango Spasiuk
to the Nordic wailing of
Maria Kalaniemi
to the Jewish Klezmer of
The Klezmatics
to
Orkestar Bez Ime
,
Brave Combo
, and the countless Cajun bands that have heated up many cold winters in our hall. And last year we hosted the 3-day NE Accordion Festival, featuring workshops and a ton of performances.
Not just one of my favorite accordion bands, but one of the more eclectic Twin Cities groups, is fronted by Dan "Daddy Squeeze" Newton, the
Café Accordion Orchestra
. Incorporating movie scores from Amelie, Pulp Fiction, and Marx Brothers films, tunes from France, Argentina, Finland, and Brazil, and back round to 1930s/40s jazz and swing. Audio sample of
"Accordion Joe"
Today on my way to lunch at Hard Times Cafe I saw this posted on the wall just outside: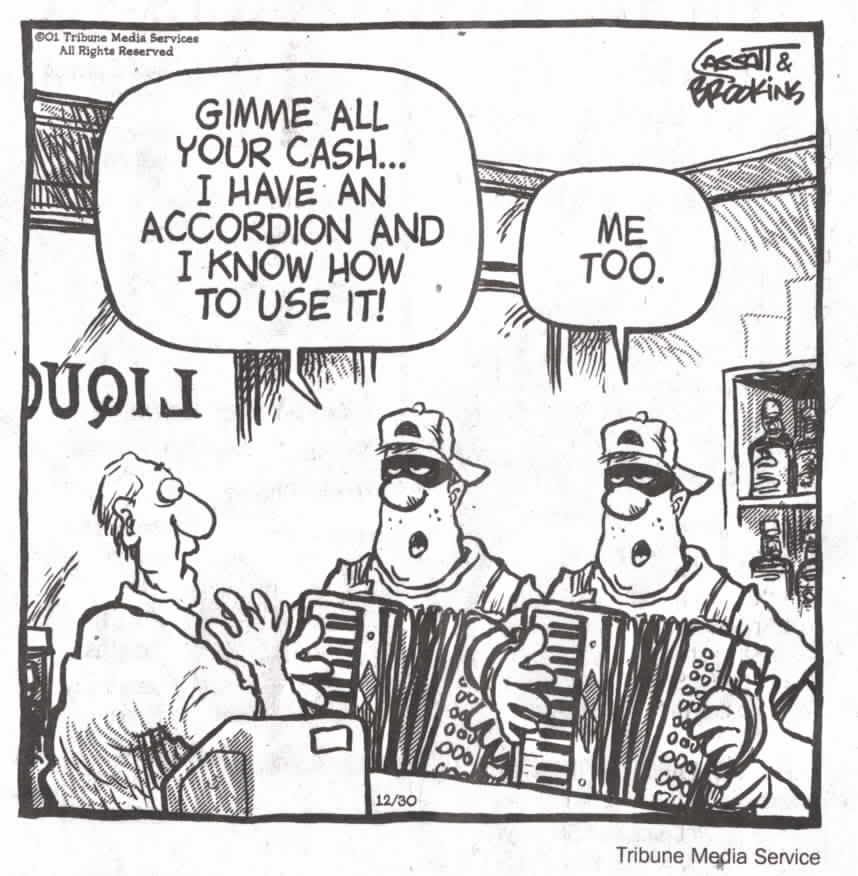 Just this past weekend
The Sweet Colleens
, who are sweet but Colleen-less, played a rousing opening set, but managed to leave behind their accordion. Somebody asked, "Shall we just throw it out and do the world a favor?" The squeezebox just don't get no respect!
Amongst all of the highlights of this season's hot newcomers and jaw dropping legends, I'm looking forward to this year's Nordic Roots Festival for the latest offering from a young group from Sweden making their first appearance in the U.S.,
Detektivbyrån
. A trio that mixes accordion with glockenspiel, drums and electronics. Sort of the 21st century version of gypsy jazz.
Not to be missed!
-Mr. William Call
Detektivbyrån Video:



Somethin' extra: The Irish punk of The Pogues, featuring James Fearnley on accordion, from 1985...