Do you ever think you really are the first kid on the block with some shiny new cool toy ( or music recording) then you come to find out that it's old news already?
There I was at Orchestra Hall Saturday night, watching
Osmo Vänskä
dance all over the conductor' s platform as he conducted Sibelius's 2nd Symphony and I thought to myself, "Hey, I should write a blog
post about this, what with the Finland connection we have going at the Cedar and all." So when I checked internet the next day, what new shiny post on the Cedar's blog should greet my eyes? The Main Figurehead had just put up a great piece about that very topic!
Huh.
Then Friday night while working together at that crazy Brass Messengers sh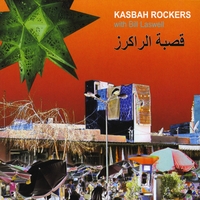 ow at the Cedar, I was telling the Angel of Rock about some fun new discs I had purchased a couple of days before. As I waxed effusive about
Kasbah Rockers
, a really fun blend of Algerian trad and rai, Arab influenced strings, vocals and raps in at least three languages, distorted guitars, big bass lines with some help from Bill Laswell as well nicely produced electronics, she said to me "Oh yeah Paul (
dj Paul Harding
) got that at the station. (
Radio K - 770
) I'm supposed to be working on my review of it right now."
Uh. UH! But I
special ordered
it last month! I thought
I
was the first kid on the block... Oh well. Great disc. I'm hoping you'll post a version of your review here, young lady!
One of the other new discs I have been loving is more of that amazing vintage West African wonderstuff, this one from t
he folks at
Analog Africa
,"The Vodoun Effect" a compilation
of 7" vinyl recordings by Benin's Orchestra Poly-Rythmo de Cotonou from the mid 1970s. I got all caught up in the big 44 page booklet that came with the album and decided to write a big post about that next week. What an amazing quest for old vinyl all over West Africa! Check out the link above for a juicy mix of a bunch of fun African titles put together on their blog space. Settle in for some listening time. Scroll down for some samples of individual tunes from this particular disc; I recommend "
Dis Moi La Verité."
For now, however, I have to leave you with this factoid. A number of the recordings the Orchestre Poly Rythmo de Cotonou did for smaller labels were recorded with
only one or two mikes
, to a
reel to reel
tape recorder,
i
n the producer's back yard
or roof in the quiet wee hours of the night! Sound adjustments were made by placing the vocalist closest to the mike and ranging the band in a semi-circle behind him at just the right distance. Yet they sound amazingly good. Amazing energy makes up for high-tech studio gear. Hope I can find a photo of this; there are some great ones in the booklet. No such luck; I'll keep looking. Hmm, I might have to buy the rest of their compilations; this stuff sounds great!
Now I just wish somebody closer to the source would start putting out compilations from old TURKISH psychedelic vinyl from the 1970s!
Ooh, maybe something like this.
Excuse me, I need to go music shopping now.