Not to come off all cheerleader on you, but I'm looking inward a bit for this week's post, as in looking home
right at the Cedar
, rather than all over the world at bands I love and acts I want to help bring to these shores. And, people, it looks so good!
First a big thanks to all you blog reader who have checked out
cedarblog.org
enough times that as of this week, one no longer gets that message "
Did you mean cedar

bog

.org
" when you Google us. Ya-hoo. OK, they are a wetlands and fen complex in Ohio and they have spotted turtles and
Massasaugua snakes and skunk cabbage and slime mold, but we got...well, we post a lot more often, that's for sure. Yeah!
* * * * * * *

The mushy part comes in like so. I was cleaning up some papers last night and went to toss the Cedar annual report that came last month. I had read through it and was feeling pretty good about how we are doing, considering the economy and all. The booklet fell open to the pages in the back where it was listing all the donors and a couple of names jumped out at me. Names like
Bruce Molskey
.
Arto Jarvela
.
Alan Sparhawk
.
Einer-Olav Larsen
. Musicians who have played at the Cedar numerous times over the years who felt like they wanted to give something more back to this international - and local - community. And I got a little choked up. I really did. Dang. Thanks, you guys.
* * * * * * *
So then this afternoon, I thought, I'll write about one of the upcoming shows, so I went to the cedar.org and started reading the calendar. Double-dang. February and March are SO happening at the Cedar, I can't wait!!
Brazilian Mash-up? Check, Curumin Jan. 27.
Senegalese Hip Hop? Check, Gokh- Bi System, February 19.
South Minneapolis' own 10+ piece brass orkestar? Check, the Brass Messengers, February 13.
Lonesome County Claire fiddling opening for a 6 piece County Sligo powerhouse? Check , Martin Hayes and Denis Cahill with Dervish, March 1.
The sweetest voice ever to come out of Ballyduff Lower? Check, Karan Casey, March 15.
Staff and audience favorite Piedmont string band revivalists?
You KNOW it!
Two nights of the Carolina Chocolate Drops March 28 and 29.
I would have to say the Chocolate Drops rank up there with Balkan Beat Box as favorites of the current Cedar staff and there was something very cool about the eerily similar way they intro'd some past shows for us. The first time BBB played the Cedar, in September 2007, they marched through the crowd up to the stage playing their horns to the raucous beat of several snare drummers. When the Chocolate Drops opened their Monday night show here last spring,
they
marched up to the stage in a little snare-led parade, too. Was I the only who had a little deja vu moment then?
The crowd that night contained hundred of high school kids attending through
Project Success
. Remember how they all lost it when, in the process of demonstrating how music changes through different times and different regions, the Chocolate Drops covered Blu Cantrell's
Hit'em Up Style
? It was funky. It was hip hop-y. It was old time! There are literally dozens of You Tubes of them playing that tune, (not to mention 73,000 Google hits!) so our crowd was not the only one last year who thought that was just too much fun.
This version, from the Alaska Folk Festival , has pretty decent sound and video quality.
* * * * * * *


Listening this week has moved a little south of Poland, like to Tel Aviv, Macedonia and Turkey.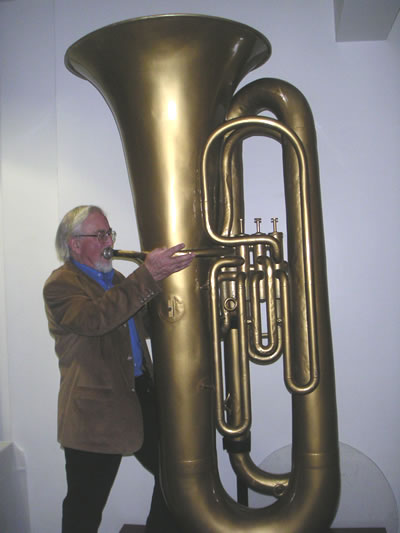 Bringing some tubas into the living room. Got the new
Boom Pam
disc,
Puerto Rican Nights
, which I plan to review here once I listen a little more. It's sharing time with the most recent
Kocani Orkestar
release,
The Ravished Bride
and with a trippy collection of 1970's singles from Turkish psychedelia guy
Ersen
. (OK, he doesn't have a tuba, but wow, the guy in the photo here sure does!!)
You know, however, if anybody wants to check out samples of the Warsaw Village tracks I mentioned the last couple weeks, they are there at the ITunes store.
Hmmm...wonder what price category "world music" like this is going to be there come April?