Although I have not yet heard the latest release from Samy ben Redfeb at
Analog Africa
, I'm just going to guess that
Legends of Benin
will make for some good summer listening. Released in Europe May 15, looks like we will be able to get our hands on it over here sometime in late June. I'll wait for the actual physical object, because his compilations always have wonderful thick booklets of liner notes, interviews and groovy old photos. He calls the new one "
A collection of super rare and highly danceable masterpieces recorded between 1969 -1981 by four legendary composers from Benin:
ANTOINE DOUGBÉ,
EL REGO et Ses Commandos,
HONORÉ AVOLONTO, and
GNONNAS PEDRO & His Dadjes
Band
.
* * * * * * *

Check this out. A whole website just for Tuareg music.
Tamasheq.net
I suppose there is a whole website out there for anything you can imagine, but you know. Anyway, they have a special extra-bells-and -whistles edition of the live
Terakaft
release availabe for exclusive download. Here's a
link
for some audio samples.
* * * * * * *

I'm sure we are all over many bands' MySpace pages, but look at the photo slide show on Rachel Unthank and the Winterset's
page
. Does that green room and all those posters in the background look familiar to any of you? Yep, it's our own little Cedar!
* * * * * * *

Yay! My new
Alamaailman Vasarat
album came in the mail this week. Review will be forthcoming,( after at least three listenings!) It jumped from #74 to # 11 on the Euro World Music charts released June 1st and just look at what they said.
Outrageously brilliant stuff from the trombone, cellos and drums of Alamaailman Vasarat. Like a Scandinavian Viking posse playing the music of Frank Zappa, it's perhaps not for the faint-hearted, but who needs the faint-hearted in these times of global collapse, impending apocalypse and endemic stupidity? Adding to the sonic soup is ghostly theremin and the mighty tubax, evidently a contrabass sax built specially for the band. The album is inspired by the long-dead and almost entirely unknown Finnish explorer/botanist Huuro Kolkko.

Essential

.
Did you get that "essential"?? Martin Gordon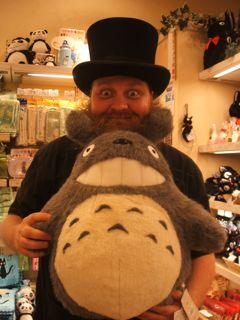 ( the guy who writes the descriptions for the world music chart) doesn't call
anything
essential. He must
really
like this disc. Can't wait! In the meantime, here's a photo of their mighty
Tubax
player Stakula on tour in Japan. And he does look a little like Totoro, doesn't he?